About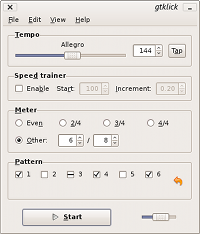 gtklick is a simple metronome with an easy-to-use GTK interface.
Features:
Native support for JACK.
Four different sounds to choose from.
Arbitrary meters and beat patterns.
Speed trainer (gradually getting faster while playing).
Profiles can be saved and restored later.
gtklick is implemented as a frontend to klick. It's written in Python and communicates with klick via OSC.
Download
gtklick-0.6.4.tar.gz (2010-02-14)
Dependencies
Installation
./setup.py build
./setup.py install