About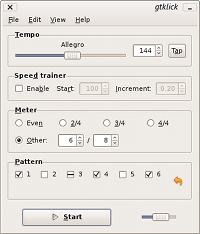 gtklick is a simple metronome with an easy-to-use GTK interface.
Features:
Native support for JACK.
Four different sounds to choose from.
Arbitrary meters and beat patterns.
Speed trainer (gradually getting faster while playing).
Profiles can be saved and restored later.
gtklick is implemented as a frontend to klick. It's written in Python and communicates with klick via OSC.
Download
Source Code:
gtklick-0.6.4.tar.gz (2010-02-14)
Distribution Packages:
Building
Requirements:
Installation:
./setup.py build
./setup.py install
Troubleshooting
gtklick takes too long to start:
On some systems gtklick may take 10 seconds or more to start. This is caused by a bug in older versions of liblo (which are unfortunately still shipped with some recent distributions). It's recommended that you upgrade liblo to the latest version.